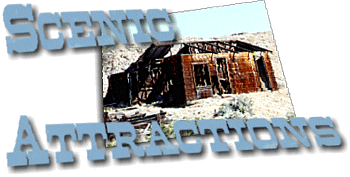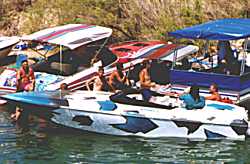 Ehrenberg has the Colorado River on one side and the colorful desert and mountain view on the other side. The river offers visitors a variety of water sports ranging from fishing to speedboat racing. Campgrounds, mobile home parks, an off road vehicle staging area complete with tables and restrooms, and other overnight accommodations are available along the river and in the Ehrenberg area.
Southward, off U.S. 95 rise the Kofa Mountains. The major sight is Palm Canyon, a tight gorge in those peaks. The home of bighorn sheep and Arizona's only native palms it is reached via a steep but rewarding climb. Farther south juts 3,793 foot Castle Dome Peak, a regional landmark.
Less than 2 miles north of Ehrenberg lie the remains of the early - day La Paz, which was at one time considered for the capital of Arizona. La Paz, was flooded in late 1800s or early 1900s and the population moved down river to Ehrenberg, which itself suffered a population exodus in the early 1900s.