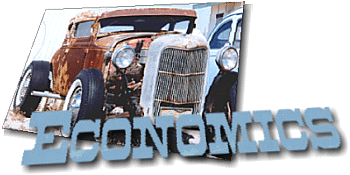 Ehrenberg is experiencing growth with a large truck terminal being located on I - 10 and a manufacturing facility located three miles east on I - 10. A new gated - community development, Emerald Springs on the River, with deeded lots, is part of a 160 acre site. Additionally, KOA is planned.
Hunting and fishing are major contributors to Ehrenberg's economy. River activities, along with the largest Desert Sand Drags, bring visitors from all over the country. The retail and trade service sectors benefit from numerous mobile home parks in the area. Agriculture is also important.
The largest employers are Morgan Corporation with 320 employees, the Flying J Truck Travel Plaza with two restaurants and 145 employees, and Ehrenberg Elementary School with 34 employees. Other major employers are the John Deere facility, R.W. West & Sons, El Paso Natural Gas, Bureau of Reclamation and Wilbur Ellis Co.