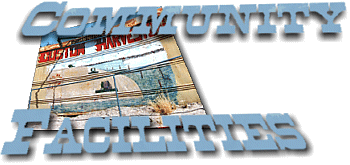 Ehrenberg's community facilities include a community building, one motel with 120 rooms, six restaurants, and two swimming pools.
COMMUNICATION
In addition to communication resources from the rest of the state, Ehrenberg has daily, twice weekly, weekly and monthly newspaper; two radio stations from Parker and Blythe; cable TV and five television channels, four from Phoenix and one from Yuma.
EDUCATIONAL
There is an elementary school in Ehrenberg as well as in Quartzsite. Students from Ehrenberg attend Bicentennial High School in Salome.
MEDICAL
Ehrenberg has a dental clinic. Full medical facilities are available in Blythe, California and Parker.
FINANCIAL
Services available in Blythe, California (4 miles) include five financial institutions. Additional services are also available in Parker, Arizona (40 miles). Further Ehrenberg businesses are eligible for assistance in financing fixed assets through the Strategic Finance Division, Arizona Department of Commerce. Information may be obtained from the Strategic Finance Division, Arizona Department of Commerce, 3800 N. Central, Ste.1500, Phoenix, Arizona 85012.
GOVERNMENTAL
The community of Ehrenberg is governed by the La Paz County Board of Supervisors and is served by the sheriff's department; the fire department has 17 volunteers with EMTs and is governed by a three person fire board. The school is governed by the five member Quartzsite School District Board.
AIRPORT
Residents of Ehrenberg have access to two airports, the Blythe Airport 15 miles away, and the Parker Airport 40 miles away.
UTILITIES
Electricity: Arizona Public Service 520-669-2248
Gas: Southwest Gas Corporation 520-684-5474
Telephone: Continental Telephone Company 760-922-2111
Water: Ehrenberg Water Company 520-923-8047
Sewer: Individual Septic Tanks