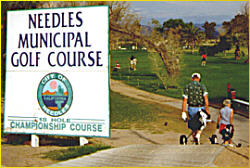 NEEDLES AREA
CHAMBER OF COMMERCE
PO Box 705
Needles, CA 92363
(760) 326-2050 Phone
(760) 326-2194 Fax
"The Best Kept Secret On The Colorado River"
WELCOME TO NEEDLES!
The Needles Area Chamber of Commerce wishes to welcome you to the Tri - State area. Our goal is to help you enjoy your stay by offering you this guide which will provide you with information on services and recreational activities in Needles, additional information may be obtained from our Chamber of Commerce Office located at Front and G Street (across from Santa Fe Park). We are open Monday through Friday between 10am and 3pm.
A River Info Website
Copyright 1998-99 River Info™
All rights reserved
Site terms of use