he Colorado River Recreation Area extends from Yuma, Arizona to Lake Powell about 650 miles. It offers boating, fishing, hunting and other water sports. There is almost 95 miles of navigable water to use for your enjoyment between Blythe and Imperial Dam in Yuma.
Blythe has virtually 360 days of sunshine each year. Pollution free days with clean, dry air makes our climate one of the most desirable in the country.
Blythe's many churches extend the opportunity for spiritual growth to its citizens of all faiths.

The Palo Verde Valley is an indoor and outdoor recreational wonderland. In Blythe and the neighboring desert you can enjoy boating, water skiing, jet skiing swimming, fishing, canoeing, camping, hiking, hunting, trapping, trap shooting, horseback riding, off-road vehicle sports, exploring ghost towns, rockhounding, and prospecting. Blythe also offers year-round sporting activites such as tennis, golfing, softball, football, soccer, basketball, and volleyball. The City of Blythe's Recreational Department offers indoor racquetball, basketball, aerobic activities, a weight room, and supervised games for kids of all ages. The City of Blythe, with community support built "Big Foot", an outdoor skating park for everyone to enjoy.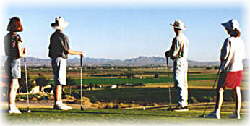 An eighteen hole municipal golf course and several parks, some on the Colorado River, attract visitors from all over. Many winter visitors spend the entire season with us to take advantage of our recreational opportunities and beautiful weather.
Popular events, such as the Colorado River Country Music Festivals (3rd week in January), Miss Blythe Pageant, Spring & Fall Street Festivals, Colorado River Country Fair (April), Softball Tournaments, Chamber's Annual Christmas Parade, and Stock Car and Sand Drag Races provide year round entertainment for all ages. There are many swap meets/gem and mineral shows in nearby Quartzsite, Arizona for everyone's enjoyment.
Blythe has many fine stores. Friendly merchants, and fair prices have made us the trade center of an 800 square mile area.
Blythe is a small town and the people are very warm and friendly. There are many active clubs, churches and organizations who also appreciate and welcome new members.
FRIENDSHIPS MADE HERE
LAST FOREVER!!!